We've made lot's of updates to the PaperDemon Art RPG in the last few weeks!
NEW COMPANION
Parker the Par Kat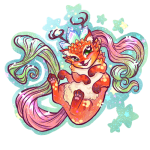 Get this cute little critter to boost your magic power in boss fights.
Buy now
Adventurer's Gold
We've added a new reward to Portals, Quests, and Non-challenge Roleplay called Adventurer's Gold. If your character is rank 2 or higher, they will earn a gold drop. The amount of gold is both random and dependent upon your character's rank. The higher the rank, the more gold you get.
Queue updates
We've had a lot of submissions to the PaperDemon Art RPG as of late! Y'all have been busy creating up a storm! For that reason, we've introduced some new automations to help improve the accuracy and speed in processing ARPG submissions and delivering your rewards. You will now get more informative notifications when you or your friends complete PDARPG challenges.
These features are also available to our Partnered ARPGs.
Boss Fight Mechanics
We have a boss fight coming next week and in anticipation of that we've introduced new mechanics and balanced existing mechanics...
Major rebalancing and new features to our boss fight rollers. Now your character's rank will influence your magic power and attack damage.
Visual tweaks to the design of the boss attacks to better highlight your artwork
We've fixed a bug with our boss death script. In the next boss fight, your kitemail, mop, battle tokens, etc WILL be consumed at the end of the fight. I hope you've enjoyed all the freebies up to this point thanks to this bug.
Junket Tank usage has changed
We are no longer accepting Junket Tanks for past Character Development challenges for the following reasons:

1. to simplify administrative processes and enable us to automate queue processing in future
2. avoid a "new player tax". Junket tanks cost significantly more than a Bookwyrm Bookmark and new players may purchase the more expensive one not realizing there was a difference.

You may still participate in Character Development challenges past the deadline with the Bookwyrm Bookmark. Junket tanks are still good for past Portals, Quests, and the Eventide Campaign.

In the future, we will be releasing new campaigns to the public which will require a new special item to access.