Fundraising goal $150 / $200
[☀☀☀☀☀☀☀☀☀☀☀☀☀☀☀_____]
Trokens sale
Trokens, our in-game premium currency, are your key to customizing your character and completing challenges past the deadlines through the purchase of items like the Elemensha, Companions, Junket Tank, Bookwyrm Bookmark, and more.
We accept Paypal!
Want to make a purchase via Paypal? No problem! Just follow the instructions toward the bottom of our shop page.
Summer Collectable
Everyone who makes a purchase by June 27th will get our summer sale collectable. Eligible purchases include Trokens, Gold, Steampunk Character Bases, Premium accounts, or being an active Patron on our Patreon.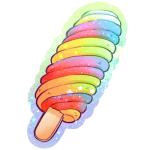 About Patreon
Patreon is a monthly online subscription starting at $2/month that gets you early access to the PaperDemon Art RPG Bi-weekly challenge prompts, Quests, Portals, and Campaigns so you have more time to complete challenges.
At the $5/month tier you'll also get 20 Spirit Points per month to use toward Mystery Boxes.
Upcoming price changes
We're going to raise the price on all Companions from 50 Trokens to 100 Trokens on June 27th. Please note that more opportunities to earn Trokens without a purchase, like the Raiders of the Solar Winds event, are in the works.
If you'd like to obtain a companion at the lower price, please make your Troken and Companion purchase before June 21st.
New Items
Every season we release new items. Here's a look at the new releases.
Battle equipment and special items
Elemental Weapons
Crafting elemental weapons is a special crafting request that requires artwork to complete the craft. See the Weapon Crafting guide for details.
Crafting ingredients and Scraps
Acknowledgements
Special thank you to the following folks who contributed to the new items this season:
Shyftlock for concepts and mechanics
Black-Nocturne and Yanang for creating item art
BogusRed for creating Troken, Gold, Popsicle collectable ar and battle roller code